RESEARCH SERIES
Personality and digital footprints in cyber security
CybSafe and NCC group have recently partnered to address cyber security challenges. In this jointly produced series we will be looking at the role of personality and digital footprints in cyber security from a psychological and technical perspective.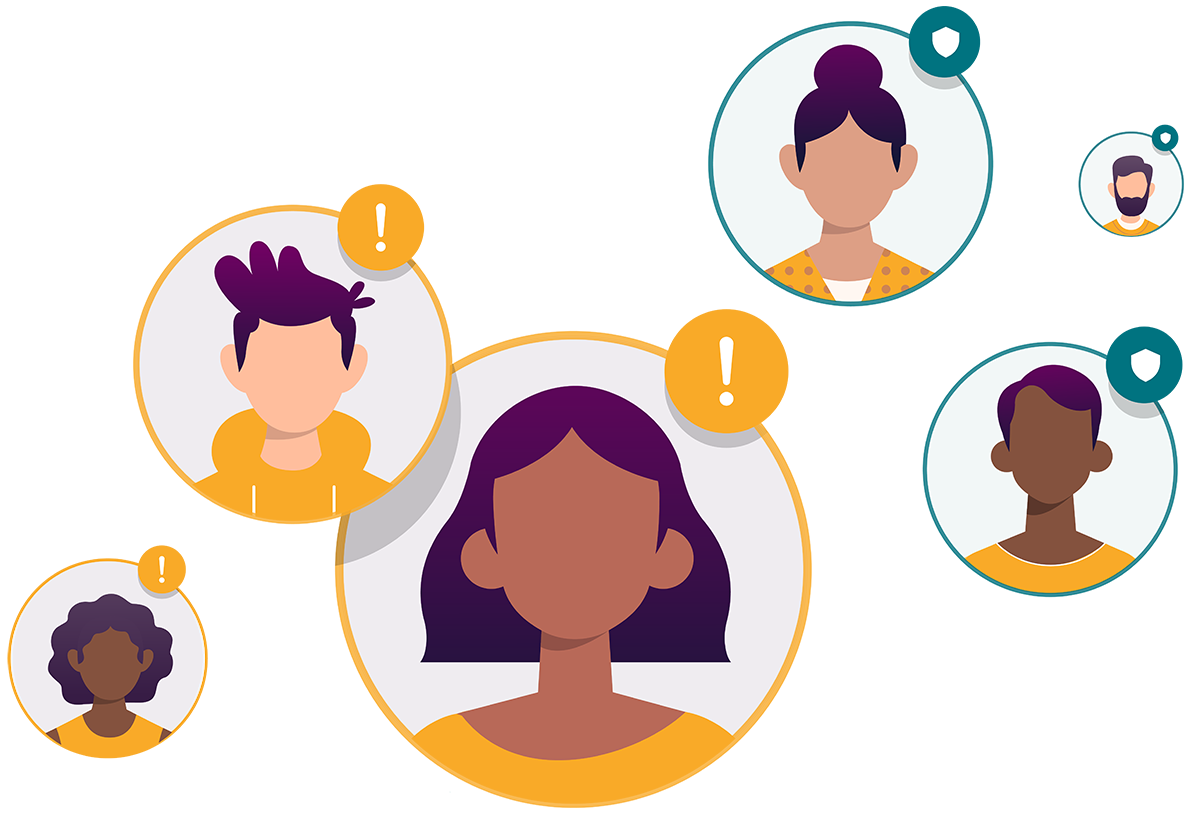 Research report
Does personality enhance

susceptibility to cyber attacks?
Our aim is to understand how these factors might play a role in a person's susceptibility of becoming a victim of cyber crime. First part of the series focuses on personality traits and the way they could be harnessed in cyber security.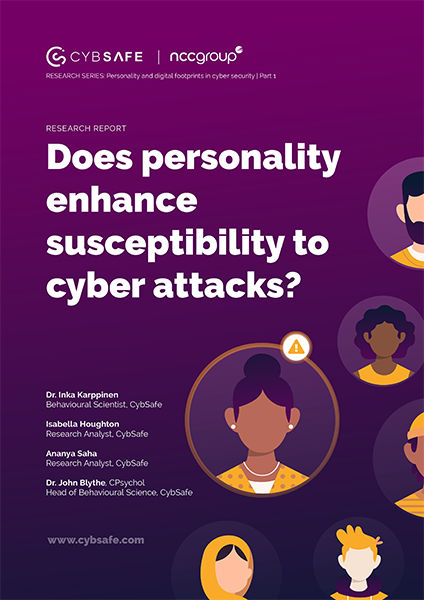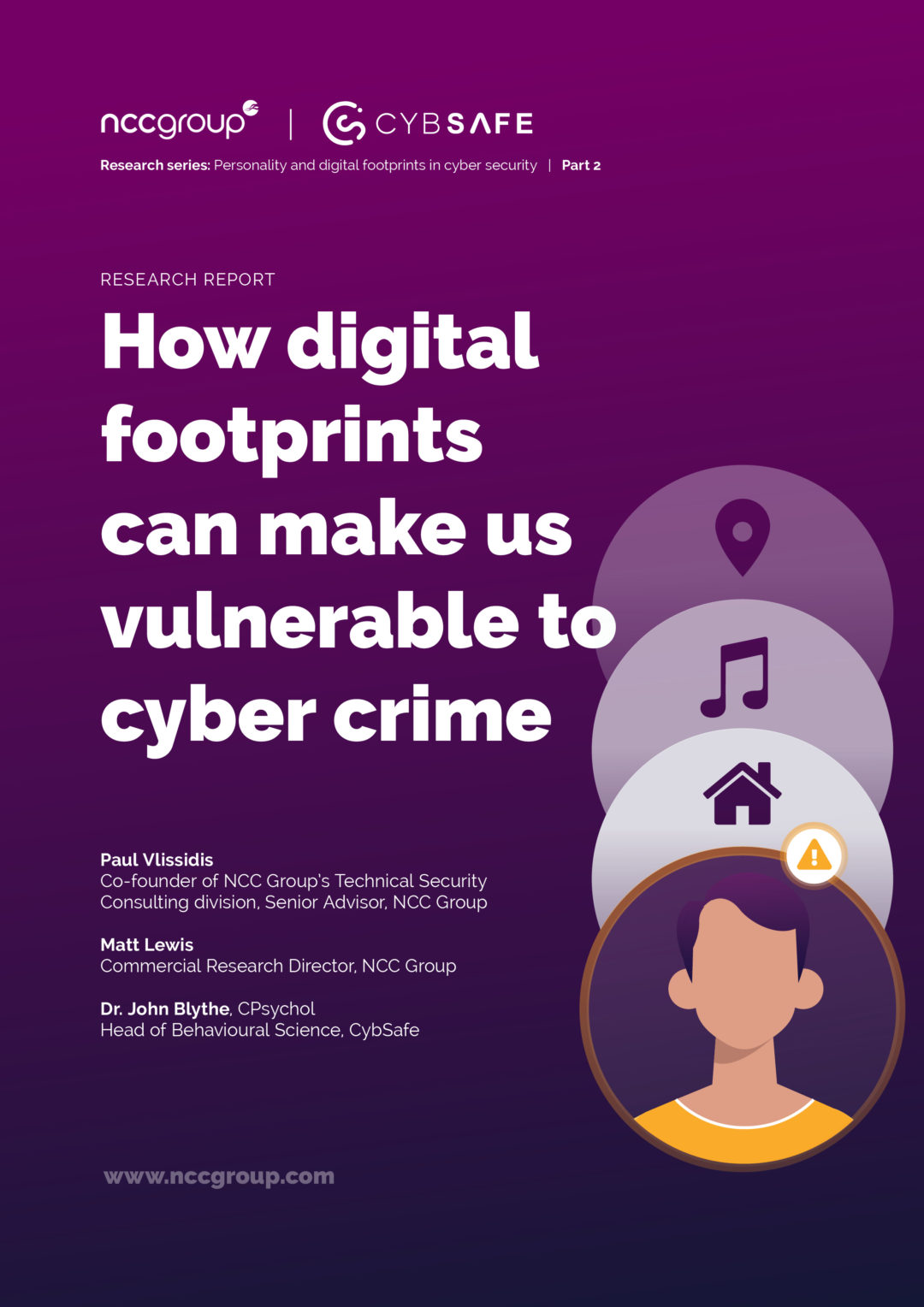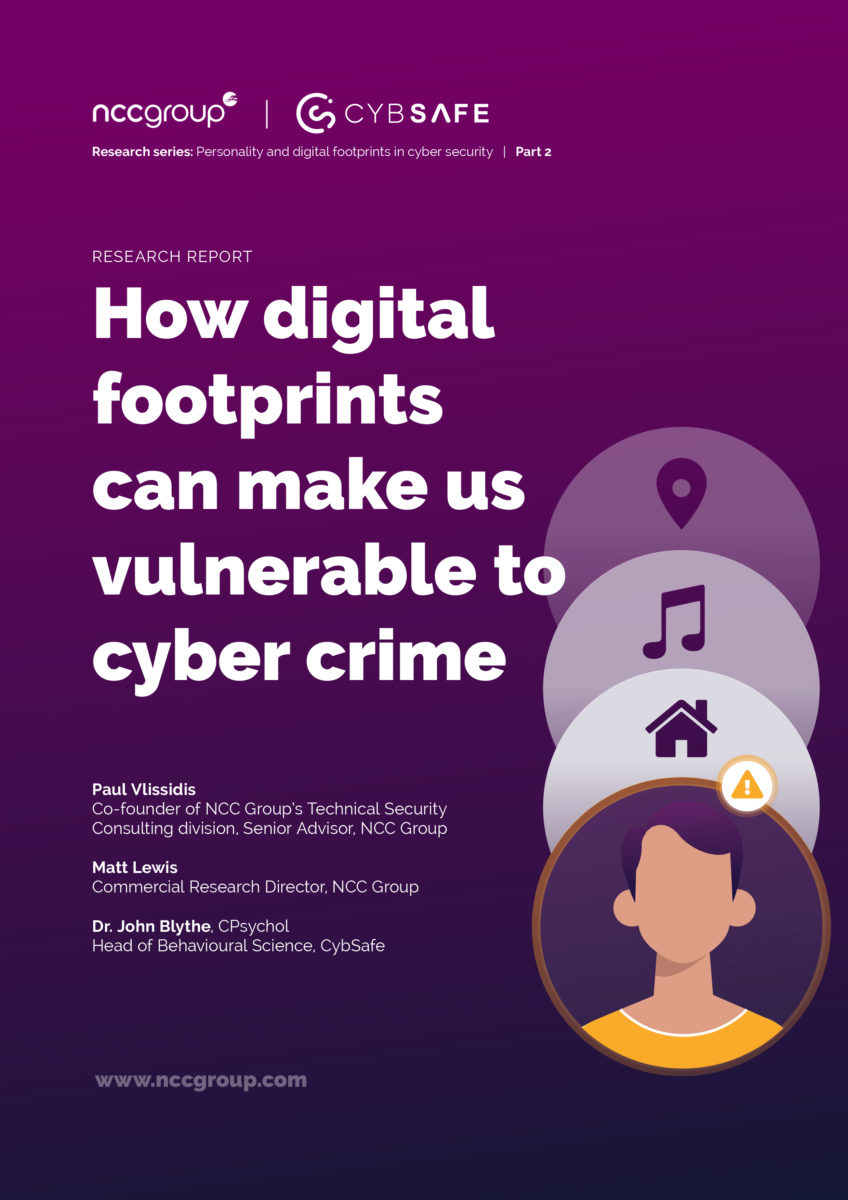 Research report
How digital footprints can make us vulnerable to cyber crime
While the first part looked at the role of personality traits influencing individuals' vulnerability to cyber crime, the second part focuses on the personal digital footprints we leave behind. Digital footprints provide a rich picture of our personalities and habits and are useful for cyber criminals to exploit.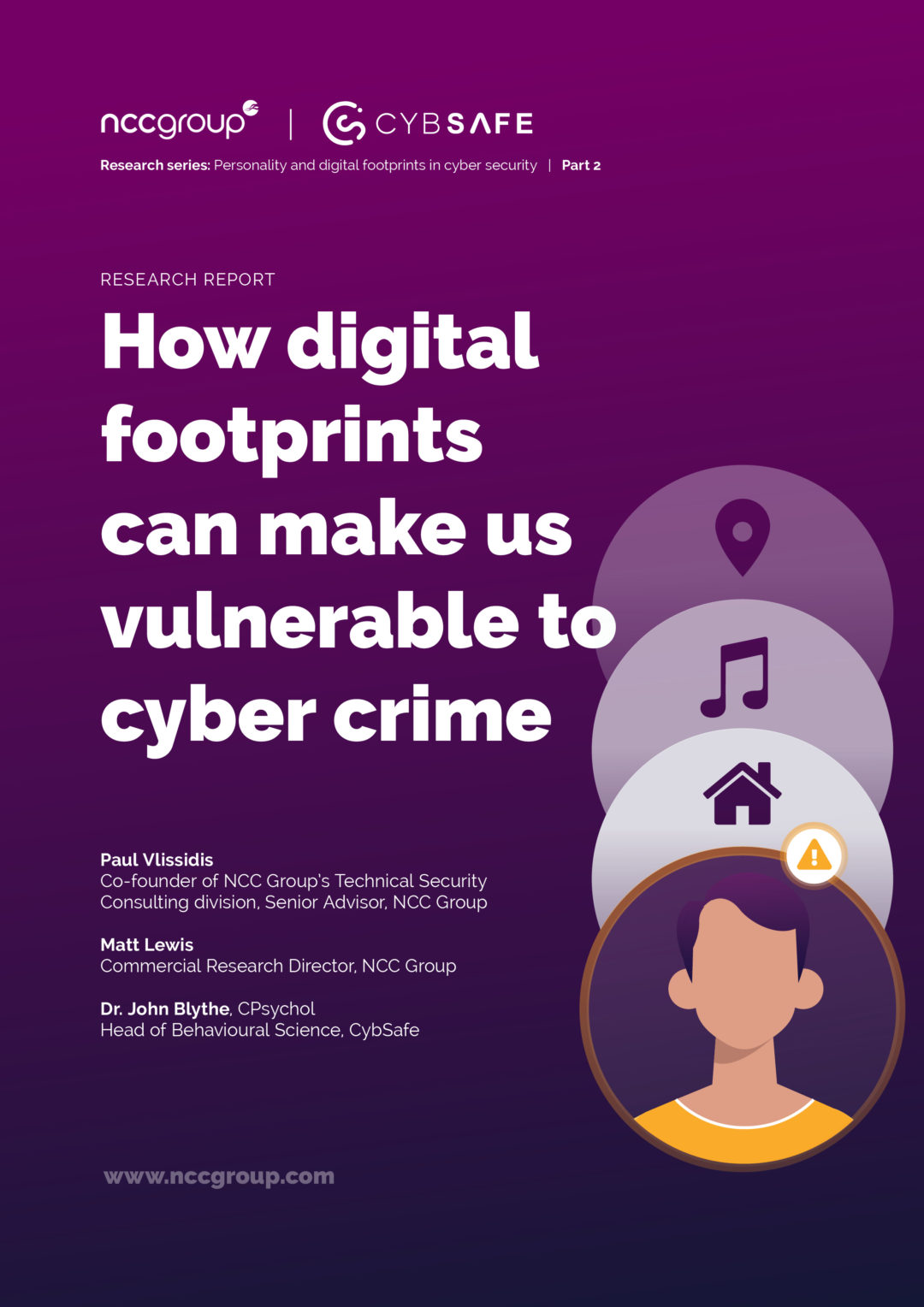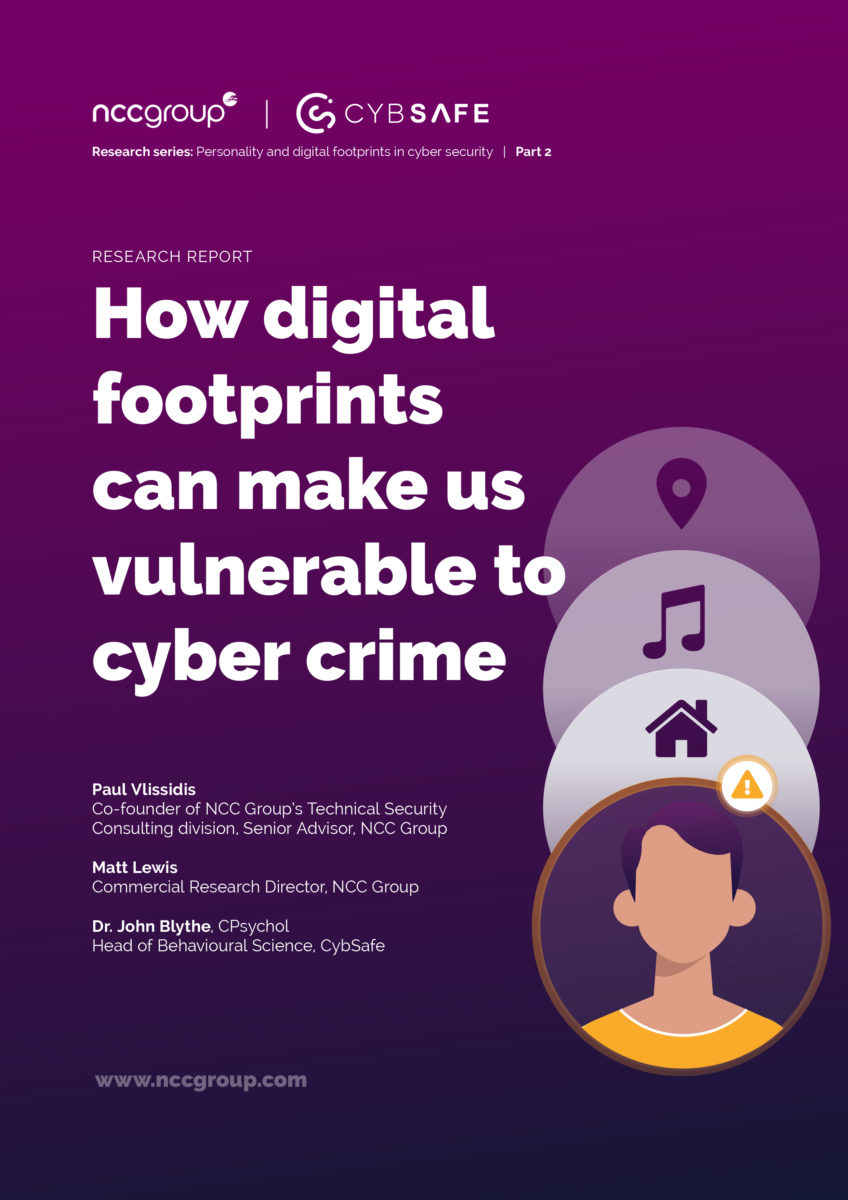 More about CybSafe
We are CybSafe. A British cyber security and data analytics company. We make it easy to manage human cyber risk.
Our software gets people engaged in security. It empowers them to make the best everyday-security decisions possible. We use behavioural science, data and reporting metrics to help security professionals do their jobs better. And see their impact on people-related cyber risk.
Our customers report improved security habits and fewer people-related security incidents.
More about NCC Group
NCC Group exists to make the world safer and more secure.
As global experts in cyber security and risk mitigation, NCC Group is trusted by over 14,000 customers worldwide to protect their most critical assets from the ever-changing threat landscape.
With the company's knowledge, experience and global footprint, it is best placed to help organisations assess, develop and manage their cyber resilience posture.
To support its mission, NCC Group continually invests in research and innovation, and is passionate about developing the next generation of cyber scientists.
With circa 2,000 colleagues in 12 countries, NCC Group has a significant market presence in North America, Europe and the UK, and a rapidly growing footprint in Asia Pacific with offices in Australia, Japan and Singapore.
Authors
Dr. Inka Karppinen, Behavioural Scientist, CybSafe
Isabella Houghton, Research Analyst, CybSafe
Ananya Saha, Research Analyst, CybSafe
Dr. John Blythe, CPsychol, Head of Behavioural Science, CybSafe
Paul Vlissidis, co-founder of NCC Group's Technical Security Consulting division, Senior Advisor, NCC Group
Matt Lewis, Commercial Research Director, NCC Group