Measuring cybersecurity culture
An intelligent and scientific approach to people-centric cybersecurity culture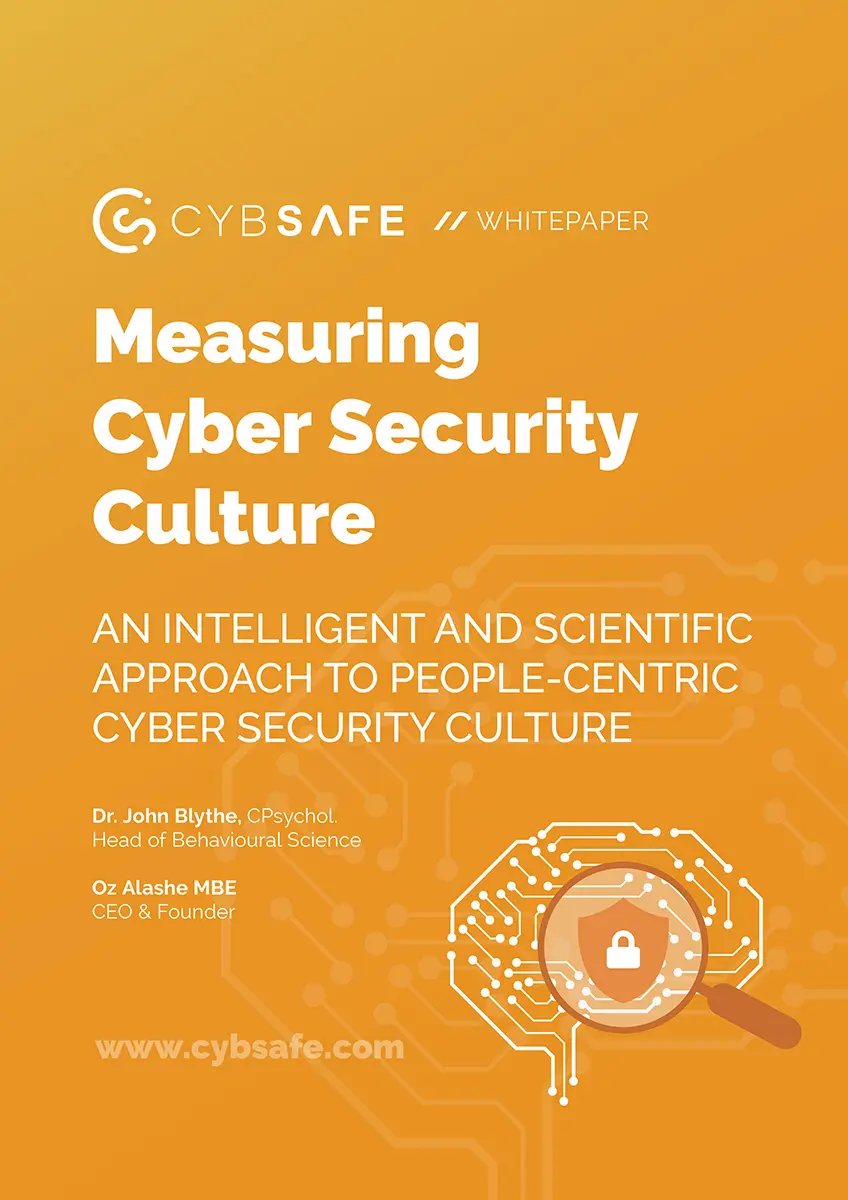 Much has been written about the benefits of a secure culture. By contrast, very little has been written about how to develop a secure culture.
This whitepaper reveals how today's security teams can build a people-centric secure culture – one that places your people at the heart of cyber security. Following characteristically thorough research, lead author Dr. John Blythe explains why secure cultures are few and far between and how to build a people-centric security culture in your organization. 
The whitepaper also introduces C-CAT, CybSafe's world-first Culture Assessment Tool that generates personalised recommendations for advancing the people-centric security culture of individual organizations.
Highlights include:
Why security awareness training in its current form isn't working

The importance of "security ABC"

How to measure and develop a people-centric security culture

C-CAT – CybSafe's Culture Assessment Tool

C-CAT's seven key dimensions scientifically proven to influence human cyber risk
BPS Chartered Psychologist Dr. John Blythe has led multiple Government and industry-funded projects exploring the intersection of behavior change and cyber security. A former pioneer at the Department for Digital, Culture, Media, and Sport (DCMS); the Dawes Centre for Future Crime and UCL's Centre for Behavior Change, he co-wrote the government reports Using behavioral insights to improve the public's use of cyber security best practices and, more recently, Secure by Design: Improving the cyber security of consumer Internet of Things. 
A former UK Special Forces Lieutenant Colonel, Oz is focused on securing society by helping organizations address the human aspect of cyber security. He and his team have developed a platform that leverages advanced data analytics and cognitive technologies to measure and improve cyber security awareness, behavior and culture. 
Oz is regularly asked to speak publicly, often discussing intelligence, cyber security and the socio-tech challenges faced by society. In 2010, Oz was made an MBE following his personal leadership in the most complex of conflict environments.