Cracking the human
cyber risk code
CybSafe and the National Cybersecurity Alliance join forces to decode how behavior and attitude shape security outcomes.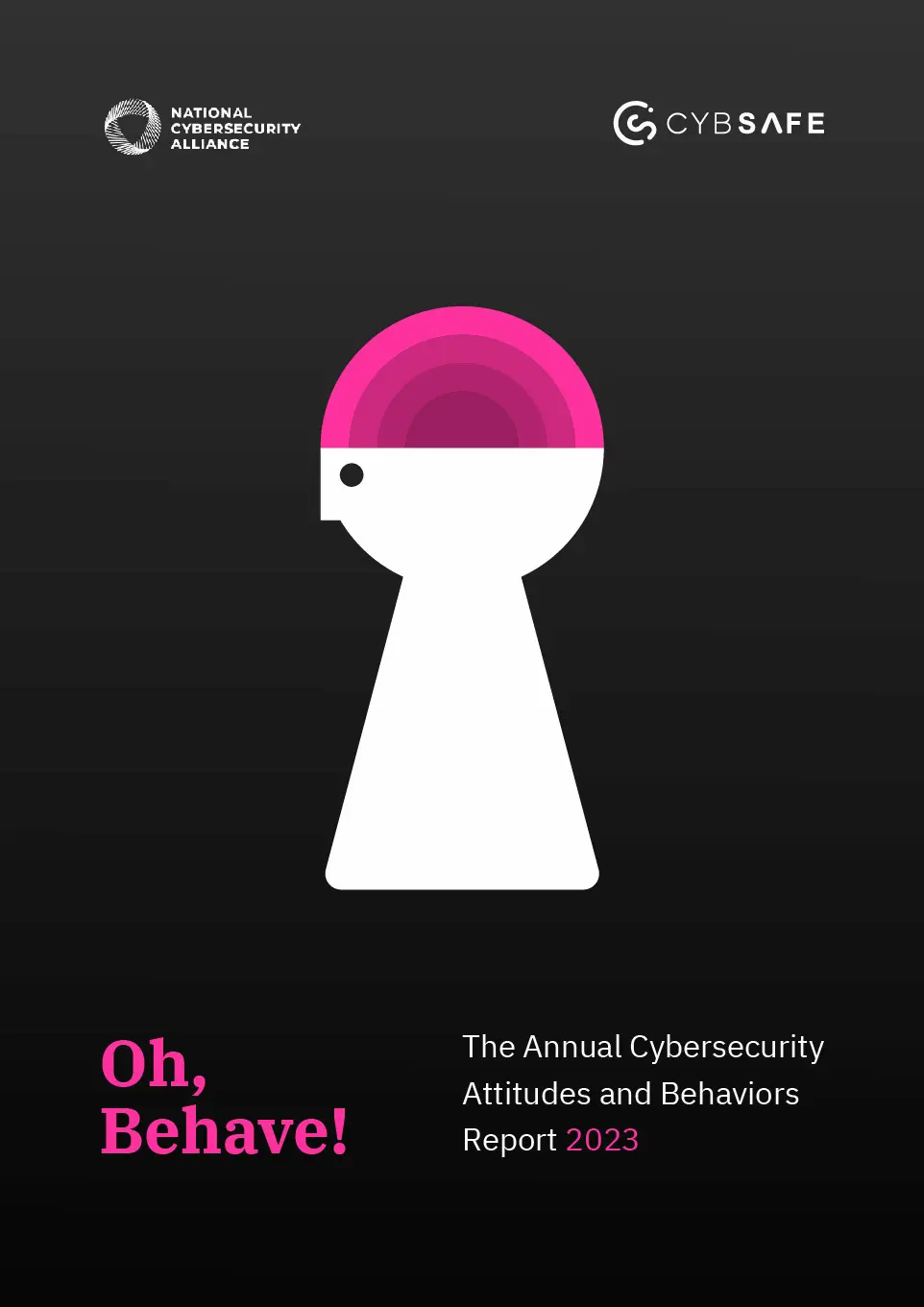 Ever wondered how much people fret about online security and if it shapes their online behavior? Curious about password management habits? Pondering whether age reveals anything about someone's online risks?
And that million-dollar question: Exactly how does attitude influence behavior, and consequently, cybersecurity risk?
To tackle these questions and more, CybSafe and the National Cybersecurity Alliance joined forces to craft Oh Behave! The Annual Cybersecurity Attitudes and Behaviors Report 2023. This report takes a deep dive into the heart of digital security, shedding light on how individuals navigate the intricate cybersecurity terrain of today.
It's packed full of insights you won't find anywhere else.
Key takeaways from the report:
Discover why a remarkable 61% worry about becoming cybercrime victims.
Uncover why younger generations, despite their tech-savviness, face a higher rate of cybercrime victimization.
Learn from the 4 in 10 who've embraced password managers to fortify their security. How can this habit elevate your organization's password security practices?
Don't miss out on Oh, Behave! 2023
You can unsubscribe from these communications at any time. Before providing us with your personal data, please read our Privacy Notice.
"I'm delighted to endorse this report that explores what is holding back the implementation of smarter practices to human cyber risk management."

CybSafe is a UK-based cyber security and data analytics software company focused on behavioral security, working to make it easy to manage human cyber risk.
With a team made up of psychologists, behavioral scientists and security experts, CybSafe delivers a range of leading security research initiatives aimed at better understanding human decision making and security behavior.
CybSafe is designed for the modern, hybrid workforce and is on a mission to revolutionise the way society addresses the human aspect of cyber security. At the heart of CybSafe's behavioral security platform is SebDB, the world's most comprehensive security behavior database, offering insight into every security behavior capable of minimizing human cyber risk.
91% Reduction in high-risk phishing behavior
55% Improvement in security behaviors
4x More likely to engage in cybersecurity initiatives

A leading non-profit organization, the National Cybersecurity Alliance (NCA) is dedicated to creating a more secure, interconnected world.Advocating for the safe use of all technology, the NCA aims to educate everyone on how best to protect themselves, their families, and their organizations from cybercrime.
The organization also creates strong partnerships between governments and corporations to foster a greater "digital" good, and amplify the message that only together can we realize a more secure, interconnected world.
Authors
Dr. Inka Karppinen, CPsychol, Lead Behavioral Scientist, CybSafe
Dr. Jason R.C. Nurse, Director of Science & Research, CybSafe
Joanne Varughese, Research Analyst, CybSafe