Here's a note from our CEO, Oz Alashe…
Wow. We're super pumped about life right now.
This is because following an investment of £3.5m in Series A funding, our award-winning cyber security awareness platform is poised to explore new territory and continue breaking boundaries when it comes to combating cyber attacks and reducing organisations' human cyber risk.
CybSafe is the world's first truly intelligent cyber security awareness platform
As things stand, our CybSafe platform is the world's first truly intelligent cyber security awareness platform using AI, machine learning and advanced data analytics to address business' human cyber security challenges. CybSafe content and features are already accessed by over 100,000 users and more than 140 organisations in 11 different countries to reduce the risk posed by cyber attacks.
High-profile businesses in sectors such as finance, retail, and law rely on CybSafe to keep their organisations safe from threats related to phishing, social media use, public WiFi, malware, passwords and much more.
Following the £3.5m investment, we believe the work we are doing with the CybSafe platform will strengthen its position as an intelligent cyber awareness platform unlike any other.
Advancing security awareness, behaviour and culture as one
CybSafe is already distinctive in its focus on advancing security awareness, behaviour and culture as one. Where other platforms focus solely on security awareness, often through a tick-box approach to training, CybSafe uses psychological and behavioural change theory to raise awareness while, changing people's behaviour in practice and improving cyber security culture.
However, we go further.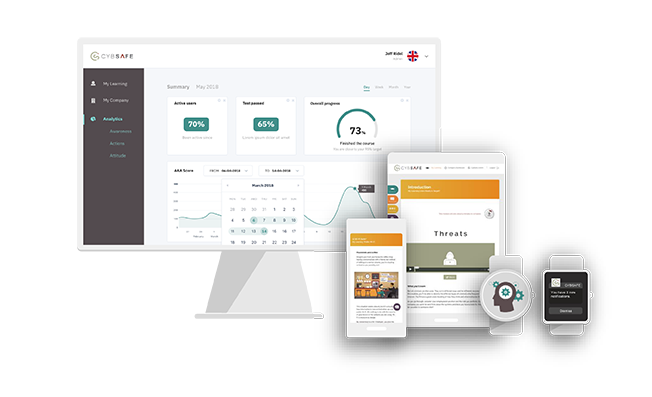 We're obsessive about helping organisations measure all three and our advanced analytics allow businesses to monitor the type and location of the risks they face, as well as what they can do to mitigate the threats.
The analytical backbone is also what facilitates CybSafe's machine learning capabilities, enabling course content to evolve as both the threat landscape and people's needs change.
This really isn't about ticking training and simulated phishing attack boxes. It's about making a tangible and measurable difference to the lives of real people and real business who need to securely embrace the wonders of fast evolving technology if they are to make the most of their business and personal opportunities.
We've a moral responsibility to redefine cyber security awareness software and enable all organisations to use science, data and advanced technology to address cyber risk posed by awareness, behaviour and culture. It's a responsibility that we are proud to throw ourselves in to. That we're becoming a leading data analytics company focused on human cyber risk is hugely beneficial but we know we've a long way to go and we won't stop continuously improving.
£3.5m investment "signals great confidence" in CybSafe
We're excited by the overwhelming support we continue to receive from the investor community and the UK cyber security technology sector. It signals great confidence in our business model and tribe here at CybSafe.
We're also excited to put this new capital to work for our customers to rapidly mature our product and further advance the use of intelligent technologies to help address today's human cyber security challenges.
Thank you for your continued support and feedback. It gives us energy, keeps us true and helps us improve. We're all in this together. We're looking forward to helping you use cognitive computing and data science to address your most important asset – your people.