Infosecurity Europe is kinda like prom night for the information security community. You know, if prom was a three-day event. 
Really, think about it. We look forward to it all year, plan our outfits, get haircuts, meet up with all our infosec friends and take a shocking amount of photos. Then we get drunk.
Of course, there's other stuff that goes on at Infosec. It's where the cyber security industry comes together to talk innovation, launch new tech and build relationships.
But with nearly 400 exhibits, over 250 talks and dozens of drinks events, it can get a little overwhelming. 
That's why we've put together this guide to all things security awareness at InfoSec 2022. 
No, actually, that last sentence doesn't do justice to the work we put into this.
We trawled through hundreds of talks, vendors and events to compile this list. Just. For. You. You're welcome!
Oh, and be sure to download our free brochure for your convenience!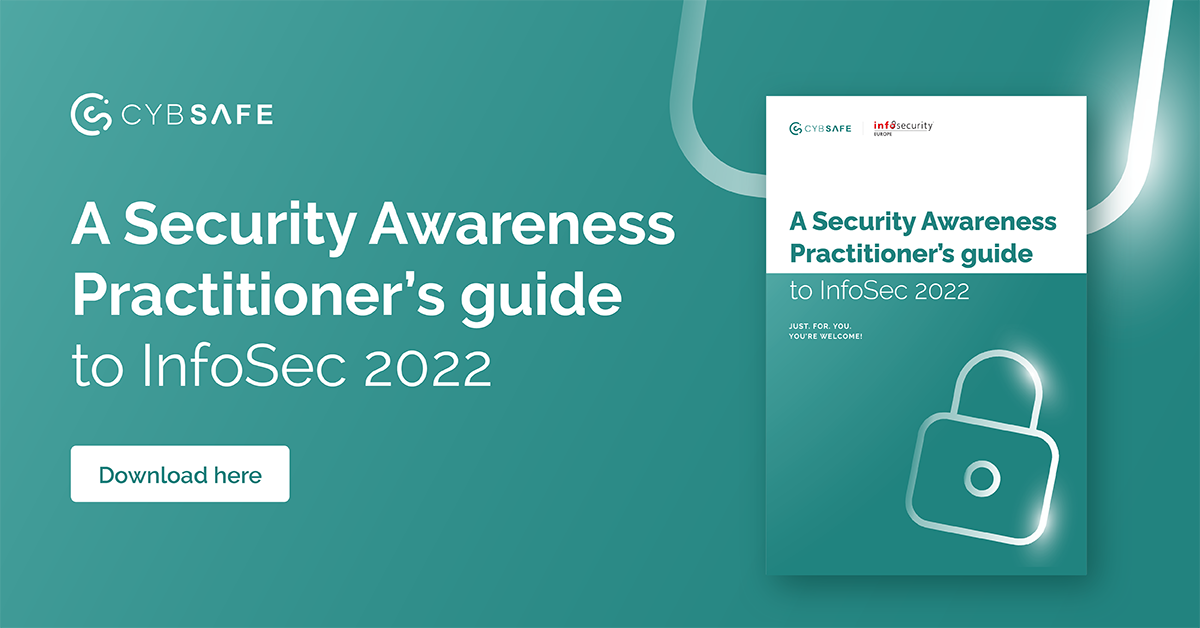 This interactive workshop is all about building a positive, respectful culture. Learn how behaviours and biases can impact others in the workplace, and what you can do about it.
Traditional email security doesn't account for human risk. Find out how Human Layer Security can help prevent online attacks.
A threat intelligence briefing on modern identity attack techniques. Understand how the threat landscape has involved and learn how to better secure your network.
How do you lead an organisation in the face of economic, political or environmental uncertainty? Get insight on making your organisation more resilient to threats.
Remote working has become an industry norm, and we don't have it all figured out yet. Find out how to promote productivity and promote a positive security culture.
Firewalls and anti-virus software isn't enough. Find out how to measure human risk and use behavioural science to develop more effective cyber security awareness programmes.
This talk covers security awareness training and the best way to represent online threats. Discover how to leverage realistic threat scenarios in your training and testing programme.
Explore the role and importance of security champions. Learn how to find them and how to develop a security champions programme that keeps them engaged.
A panel discussion on developing a risk-ready organisation. Find out how to navigate breaches and talk cyber security with stakeholders and the higher-ups.
A deep dive into the role timeliness plays in secure decision making. Understand the link between timeliness and effective security awareness training.
Lessons learnt from a lifetime of social engineering and physical infiltration work. A look at social engineering unlike any other.
Hybrid working as a tool for uncovering gaps in your security posture. Find out how to improve data protection standards within your organisation in five steps.
This webinar covers tips on preventing ransomware attacks. Learn how to identify and prevent ransomware attacks in your organisation.
A talk on the human element in cyber security. Discover how and when your people can address the security gaps that technology can't.
Want to speak with one of our good-looking team members at InfoSec in person? Let us know below!
SOCs are under increasing pressure to monitor, prevent and respond to threats. Explore technologies that can help you take the load off your security team.
Place: ExCeL, London       Time: 08:30 – 11.00
Infosecurity 2022 drinks reception
This rooftop drinks reception is a great opportunity to network (and try some liquid nitrogen ice cream).
Place: Good Hotel       Time: 17:00
Chat about the day's events and enjoy a relaxed evening with drinks and pizza!
Place: The Fox, ExCeL       Time: 18:00 – 21:00
These annual awards are a highlight for cyber security content creators, CISOs and other industry professionals.
Place: Tapa Tapa restaurant      Time: 18:00
Dinner, drinks and damn good conversation are on offer at this social.
Place: The Cinnamon Club      Time: 18:30
A breakfast, presentation and panel discussion with inspirational women in the cyber security industry.
Place: ExCeL      Time: 08:30 – 11.00
No presentations or pitches. Just good food and good company.
Place: The Breakfast Club      Time: 09:00
There's no better way to end a busy day at Infosecurity Europe than a nice dinner with Salt (both the company and the condiment).
Place: The Cinnamon Club      Time: 18:30
Live DJs, dancing and drinks. Support this fundraiser for the NSPCC's Childline and the Red Cross Ukraine Crisis Appeal (ICRC).
Place: Patch-East     Time: 18:30
Discuss security for the 'everywhere-workplace' with like-minded security leaders.
Place: ExCeL     Time: 08:30 – 11.00
Yeah, that's a hell of a programme! And we hope you're as pumped about it as we are. 
CybSafe will certainly be around to keep you company. 
Stop by Stand F28 to help us celebrate our $28 million Series B funding, chat to our CEO & Founder, Oz Alashe, get some cool merch and hear more about our personalised behavioural cyber security solutions. 
Oh, and, did we mention we were named a leader in the Forrester Wave™: Security Awareness and Training Solutions, Q1 2022? 😎
Want to speak with one of our good-looking team members at InfoSec in person? Let us know below!